We are happy to announce the start of our official Cyberpunk 2077 illustration contest!
Its theme revolves around Night City – which is not only about dark alleyways and neon signs, but also vibrant streets and every-day situations... like eating ramen at a food stand. We want you to show us your version of Cyberpunk, in your own style and artistic vision.
There is only one catch – your illustration must be done using our template (available here) with an outline of V's iconic jacket placed in the center. The rest of the scene, including the style of the main character in the jacket, other characters, setting, etc. is totally up to your imagination and preferences!
You can submit your entry until October 6th, 2020, 23:59 CEST. The complete set of rules and regulations for the contest is available here. 
Three best submissions will be awarded with prizes from CD PROJEKT RED and Wacom!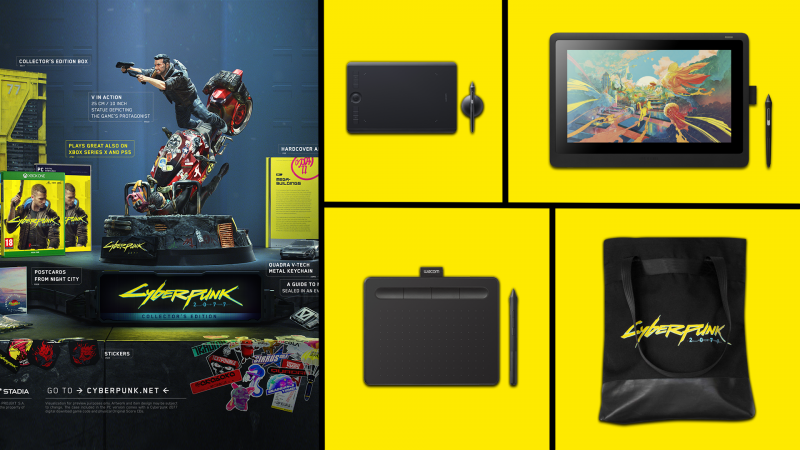 How to participate: short tutorial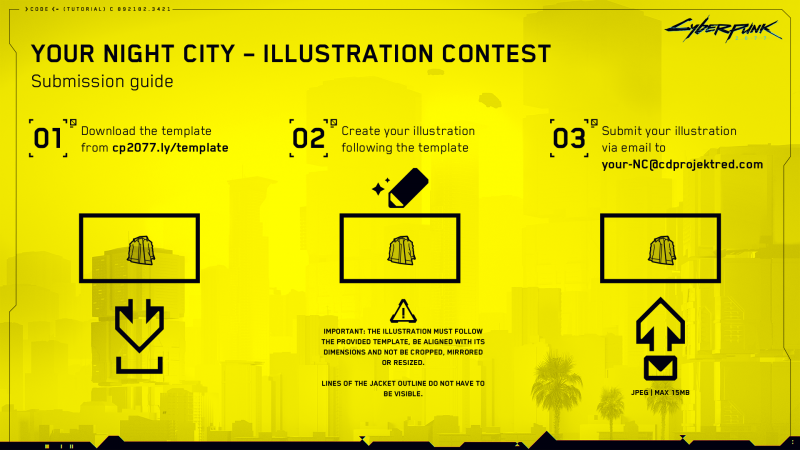 How to participate: FAQ
1. What is the required size and format?
The illustration must follow the provided template, be aligned with its dimensions and not be cropped, mirrored or resized. However, lines of the jacket outline do not have to be visible. The illustration has to be provided in JPEG format, and must not exceed 15MB in size.
2. How many illustrations can I submit?
You can submit only 1 illustration.
3. How should I submit my illustration?
Send an email to your-NC@cdprojektred.com with the illustration (JPEG file) as an attachment. Please do not send links to external cloud drives or ZIP/RAR files.
4. What is the contest period?
The contest begins on September 1st, 2020 and ends on October 6th, 2020 23:59 CEST. 
5. Can I post my illustration on social media after submission?
Absolutely! Make sure to tag @cyberpunkgame and @wacom when posting on Instagram if you want to be featured in our highlight reels :)
6. How will the winners be chosen?
All illustrations which meet the technical requirements will be reviewed by a jury. Winners will be chosen based on the creativity, composition, originality, and overall quality of the entry.
7. Can I retract a submission?
Yes – in order to do so, please send us an email to your-NC@cdprojektred.com from the email address you used to submit your entry. However, please note that you won't be able to resubmit/submit an entry again.
8. Will you use my illustration later?
We might share your picture later on one of our social media accounts, especially if you're a winner!
9. What are the prizes?
First place: Wacom Cintiq 16, Cyberpunk 2077 Collector's Edition, Cyberpunk 2077 goodie bag worth 250 EUR
Second place: Wacom Intuos Pro M, Cyberpunk 2077 Collector's Edition, Cyberpunk 2077 goodie bag worth 150 EUR
Third place: Wacom Intuos S, Cyberpunk 2077 Collector's Edition, Cyberpunk 2077 goodie bag worth 100 EUR